HSFA 2
Horizontal-Sonnen-Forschungs-Anlage 2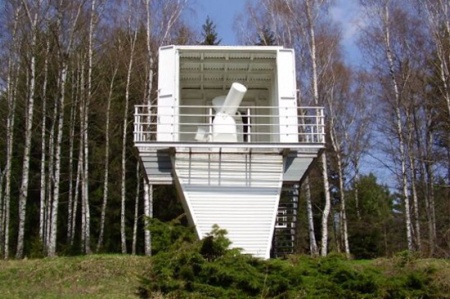 In 1980s two medium-size horizontal solar telescopes 50/3500 cm with large spectrographs Czerny-Turner made by Carl Zeiss Jena were installed in the Ondřejov observatory. The Czerny-Turner-spectrographs in the Ondřejov observatory called HSFA1 and HSFA2 according to the German name Horizontal-Sonnen-Forschungs-Anlage ("horizontal device for solar research") have been explored for more than two decades. A process of modernization was completed recently. The reconstruction of the optical parts of the spectrograph of the HSFA2, which is supposed to be overbuilded into a multichannel spectrograph operating simultaneously in several diagnostically important spectral lines, is decribed briefly.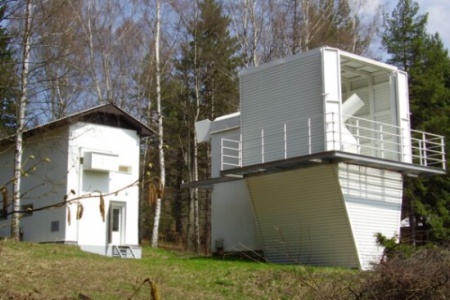 The high quality equipment of the HSFA2 was made by Carl Zeiss, Jena. There is a better resolution (angular resolution is 0.33" for H-alpha, the chromatic resolution is 12.60 mA for H-alpha) and high quality optics. The HSFA2 is placed about 400m far away from the main building in a forest. There are no streets and buildings in the neighbourhood of the spectrograph room or other unwanted source of air-convection. The height of the coelestat above the ground is about 6 m. But there are several disadvantages. The HSFA2 is more complicated to activate due to the installed hydraulic system which is usable only by temperature above 5°C. Other problem was that the original grating and objective were dedicated for configurations of larger detectors. But the main problem was the fact that we had a limited space inside the spectrograph-room. The long and narrow room was designed for a one-way-spectrograph.
HSFA2 Parameters
1. Feeding Telescope
- Jensh type of coelostat, two mirrors of diameter D = 600 mm
- diameter of the telescope primary mirror DT = 500 mm
- focal lentgh of the telescope primary mirror fmirr = 35 m
- focussing is provided by shifting of auxiliary flat mirror DM = 320 mm
2. Slit-jaw imaging
- slit-jaw image is done with refractor telescope D33mm/F840mm/Feff8543mm
- H-alpha filter DayStar 0.5 A halfwidth is used
- CCD camera VDS Vosskuehler-1300LN
3. Spectrograph
_ metallic slit is open wide
- reflecting mirror with transparent slit 100 mm/100 µm is used
- diameter of the collimator mirror Dcoll = 250 mm
- focal lentgh of the collimator mirror fcoll = 10 m
4. Diffraction grating
- Richardson, Spectra-Physics
- nominal blaze angle - 17.5 deg
- nominal wavelengh 1st order (Littrow) - 500 nm
- the width of the diffraction grating W = 206 mm
- the height of the diffraction grating H = 154 mm
- number of grooves per mm - 1200
5. Camera objectives
- H-alpha region: mirror 17cm/330 cm, 2 flat mirrors, astigmatism correcting lens
- D3, H-beta, and CaII H (or CaII K) regions: mirrors 15cm/250 cm, and dtto as above
- CaIR 8542 A region: refractor 15cm/160cm
6. CCD Cameras
- 6 pieces of VDS Vosskuehler-1300LN + Grabber Matrix Vision
- size of one pixel 6.7 µm x 6.7 µm
- size of the chip 1280(H) x 1024(V) pixels
7. Typical dispersion curves
- H-alpha region: lambda[A] = 6554.39 (+/- 0.010657648) + npix * 0.0138379 (+/- 1.8622043e-005)
- D3 region: lambda[A] = 5863.21 (+/- 0.007739841) + npix * 0.0193079 (+/- 1.2064653e-005)
- H-beta region: lambda[A] = 4848.41 (+/- 0.010725436) + npix * 0.0207566 (+/- 1.4801976e-005)
- CaII H region: lambda[A] = 3954.91 (+/- 0.0042732762) + npix * 0.0211106 (+/- 5.6048526e-006)
- CaIR 8542 A region: lambda[A] = 8525.73 (+/- 0.010321560) + npix * 0.0281918 (+/- 1.7082068e-005)
- npix = number of pixel [0 .... 1279]
Optical & Electrical Scheme | Manual (Czech) | Install frame-grabber | Software | Gallery | Venus Transit 2004
References
1.
Kotrč P., 2009: The Modernized Horizontal Spectrograph at the Ondřejov Observatory, Cent. Eur. Astrophys. Bull., in print.
Full PDF available
2.
Kotrč P., 2009: Solar Optical Spectroscopy in the Ondřejov Observatory, Publ. Astron. Obs. Belgrade, in print.
Full PDF available
3.
Kotrč P., Kschioneck K., 2003: From Czerny-Turner to a Multichannel Spectrograph, from Photografic to CCD Detectors; in Proc. of the International Solar Cycle Studies 2003 Symposium: "SOLAR VARIABILITY AS AN INPUT TO THE EARTH`S ENVIRONMENT", held June 23-28, 2003, Tatranska Lomnica, Slovak Republic ESA SP-535, A. Wilson (ed.), p. 717-722.
Full PDF available
4.
Klvaňa M., Sobotka M., Kotrč P., Knížek M., Heinzel P., 2001: Reconstruction of the HSFA telescopes, Astronomische Nachrichten, Vol. 322, p. 371-374.
Full PDF available
5.
Pavel Kotrc, Jurij A. Kuprjakov, Alena Zemanova, Jozef Lesko and Tomas Blaha: 2014; Solar Observations at Ondrejov, 22nd National Solar Physics Meeting, 26 - 30 May 2014, Nizna nad Oravou, Slovakia,
Full PDF available
© 2008 Pavel Kotrč, Tomáš Prosecký, Yu. Kupryakov.
Please feel free to send your comments or questions to pkotrc "at-sign" asu.cas.cz or prosecky "at-sign" asu.cas.cz
or jurij.kupriakov"at-sign" asu.cas.cz.