Solarigraphy contest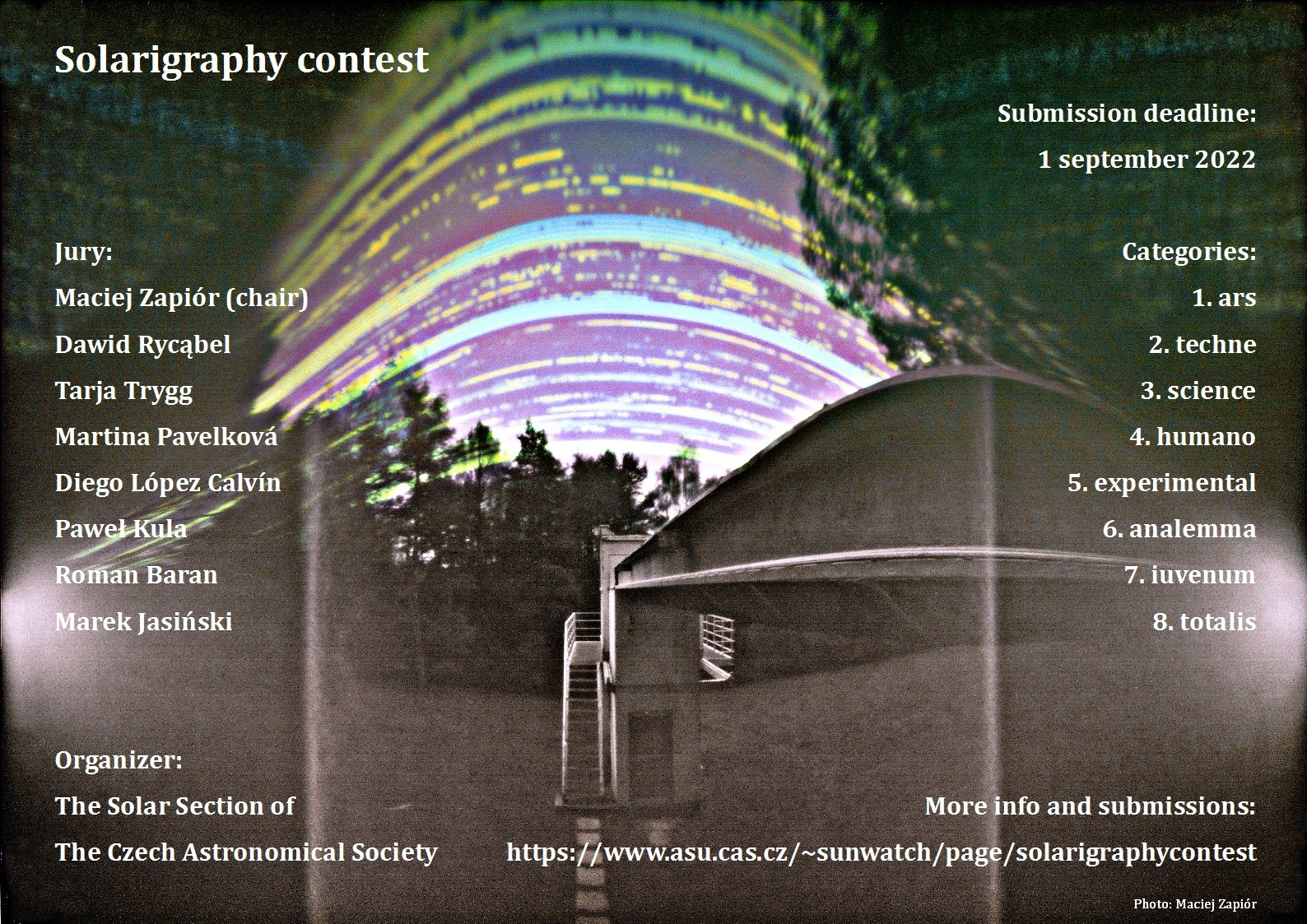 REGULATIONS OF THE SOLARIGRAPHY CONTEST
The Solar Section of the Czech Astronomical Society is organizing a solarigraphy contest. Works must be submitted by the 1st of September 2022. Everyone can participate (participants under 18 years old must have permission from their parents/legal guardian). One participant can submit one work made with the solarigraphy technique to each category. The categories are as follows:
1. ars - the best in an artistic way; exploring new ways of message and aesthetics
2. techne - the best in technical/craft way
3. science - presenting scientific aspects of solarigraphy
4. human - exploring human activity recorded in solarigraphy
5. experimental - experimental way of taking solarigraphy image
6. analemma - solar analemma taken with solarigraphy technique
7. iuvenum - for youth under 18
From all submitted solarigraphies, the jury will select the winner in the category:
8. totalis - overall winner
Photographs cannot be photo-montages and must be legal and suitable for minors. We limit works to the solarigraphy technique only. Considered photosensitive material is black-and-white paper only with no development. This does not limit technique to camera obscura only. Digital files (short side minimum 2000 pixels, 300 dpi, jpg) should be sent by the electronic way along with the submission form. The jury will select the works for the post-competition exhibition and indicate the winners. The jury has a right not to announce the winner in any category. The jury has a right to exclude any work without giving any reasons. The entrant grants the Organizer an unrestricted license to use the photographs to display them, promote and inform about the Festival.
Important dates:
20 March 2022 - equinox, announcement of the call
21 June 2022 - solstice, submission open
1 September 2022 - deadline for submissions
23 September 2022 - equinox, announcement of winners
The jury:
Maciej Zapiór. Chair - astronomer, solarigrapher, the author of solarigraphy analemma project [ www.analemma.pl ]. He works in the Astronomical Institute of the Czech Academy of Sciences. In his scientific work he focuses on solar prominences. He is a head of solar optical spectrograph located in Ondřejov Observatory. In his field of interest there are science-art connections. He is involved in solarigraphy since 2005. His solarigraphy works were exhibited in Poland, Czech Republic, Spain, UK, Argentine, and Brazil.
Dawid Rycąbel. Filmmaker and photographer. He has been working with pinhole photography and solarigraphy for three years. He runs the Pinholove website where he publishes his photos. He organizes pinhole photography workshops with young people and creates solarigraphy projects in various Polish cities. Solar Gold was his first solarigraphy exhibition presenting the city of Złotoryja in May 2019 and June 2020. Since 2019, he has been running a project called "Solar Fun" promoting the idea of solarigraphy. [ www.Pinholove.com ] [ https://www.instagram.com/pinholove_com/ ]
Tarja Trygg. Twenty years hooked on solarigraphy, solarigrapher and visual artist. Education: Licentiate of Arts, University of Arts and Design and Art educator/ Fine Arts. She has worked as a senior lecturer at Aalto University, teaching photography at the Department of Art. She is currently emerita and concentrates on her doctoral thesis on FACING THE SUN. Exploration of Solargraphy Observing the Universe through a Pinhole Photography without a lens

. For mapping research material, 2006-2012, Tarja Trygg has created a global solarigraphy project on the Internet to invite volunteers to place her homemade pinhole cameras at several latitudes worldwide. [

www.solargraphy.com

]. In addition, she has widely promoted solarigraphy teaching, keeping lectures, workshops, writing articles, holding both solo exhibitions, and attending group exhibitions and international projects. In January 2022, her newest solo exhibition on

The Amazing World of Solargraphy

was at ARS Longa Gallery in Helsinki, Finland, for showing the world from other perspectives what we cannot see with the naked eyes.

Martina Pavelková. A

stronomer, chair of Solar Section of Czech Astronomical Society. Solar observer, popularizator of solar astronomy. She is main solar observer of Solar Patrol Service in the Astronomical Institute of the Czech Academy of Sciences. Her main work consists of observing the Sun, collecting images from different cameras (filtres), Sunspot drawings and forecasting solar activity. She also participates in popular activities such as tour guiding at the Institute, giving public talks or writing popular articles in magazines.

Paweł Kula. Visual artist, photographer, culture animator and art educator. Constructes primitive photographic, film and drawing apparatus and archaic optical toys. Uses untypical light sensitive materials like plants and natural pigments, referring back to the beginnings of photography. Co-inventor an idea and method of solarigraphy (2000). Leads workshops concerning creativity, visual aesthetics, history and language of photography. A graduate of Fine Arts Academy of Poznan (MA, Photography, 2004). Works in "Zachęta" Contemporary Art collection (2011) and National Museum colletion (2014). Lecturer in Photomedia and Creative Photography Studio / Academy of Art in Szczecin.

[ www.rezerwatidei.pl ] [ https://www.instagram.com/fotopeuta/ ]

Roman Baran. Polish photographer, photography teacher and exhibition organizer. He has worked as a photojournalist in the past. He deals with traditional and digital photography as well as old and alternative techniques. He is the founder and organizer of the Pinhole Photography Festival in Brzeg (Poland). He ran many workshops including workshops that took place during the largest photography festivals in Poland. He is the winner of "Then & Now 2018" international competition in the category of pinhole photography. As a photographer, he has presented his works at many photography exhibitions e.g. in Poland, Brazil, Colombia, Portugal and Ukraine.
[ fb.com/bromfoto ], [ www.instagram.com/bromfoto ]

Marek Jasiński, 50 years old, for 40 years interested in classical (silver halide), mostly black and white, photography, both in technical and artistic aspects. Interested in the history of early photography too. Active photographer, author of many publications, exhibitions and workshops. Since 2010 promoting solarIgraphy in Poland. The founder of webpage and solarigraphy forum [ solarigrafia.pl ].